and on his truck as well. a friend of mine,
Zach Lihatch
is currently trucking around while pedaling his book! (ha ha ha) He is putting together a book that documents bicycle cooperatives and co-ops in the US. If he comes your way, please send him some support. Here is his
blog
where he's been keeping track of his adventures thus far. Below is his mission statement::
Four the past four years, Zach has been involved with BICAS in Tuscon, AZ.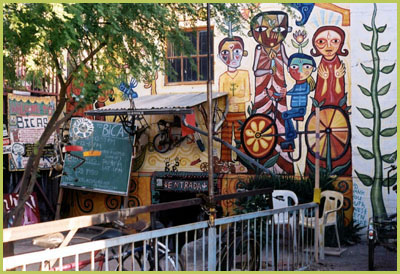 BICAS
(Bicycle InterComunity Action and Salvage) is a cooperatively-run non-profit Community Center that through bicycle advocacy and recycling bikes, promotes education, art and a healthy sustainable environment. In conjunction, it provides services and opportunity for those in need.
The emergence of places like BICAS has occurred relatively recently. 10 years ago only one or two such projects existed. For a little history, BICAS itself was created in 1989 with a different mission than bikes. It was to help the homeless and originally called Bootstraps to Share, operating out of someone's garage. In 1994, Bootstraps to Share organizers decided to focus on what the group did best encourage people to ride bicycles. Thus, BICAS was born.
BICAS is one of the country's oldest bicycle co-ops, along with
Boston's Bikes Not Bombs
and New York's
Time's Up
. It is only appropriate that Zach started his journey there. Now almost every major city some type of collectively run community bike space. Many of these groups have organized a network and meet at a national gathering to discuss their tactics, success stories, and challenges. All across the country, community bike shops have become a powerful resource, impacting all who come in contact with them.
I would even go to say that they have become a staple in our generations society. I almost expect there to be a bike co-op in every city because I grew up with one as well.
(shout out to
free ride!
) It's weird that that's what I assume. Fortunately, every city I've gone to in the US there's been one. Right after I moved to LA (like that week) I found a bike on craigslist and brought it to the
Bicycle Kitchen
. It just happen to be Bitchen Kitchen, the ladies night. I didn't know any one in LA and it was so welcoming! And re-affirming to be able to be fixing my bike in a strange new place.
Bicycle co-ops/collectives are the actualization of strong ideas. This once viewed as a sub-culture occurrence has blossomed into a current and appreciated amenity of the city and culture of its own. Zach's goal with this book is to bring attention to the bicycle co-ops and collectives and give this new and promising movement the recognition that it deserves.
This next part is a direct quote (I've been paraphrasing thus far) but its too beautiful not to say it as it::"Thus far, there are many people who are involved in such endeavors, and countless others whom I believe could benefit from the knowledge that there is a practical and viable alternative out there. As individuals and communities, we can empower each other to reject those forces in the world that hold us down and to replace them with something much better. Through photo documentation, interviews and film [Zach] will be offering a glimpse into an alternative that is flourishing. "
It brings tears! So great! and SO TRUE! When I fix my bike and turned my Motobecane to a single speed all by myself I felt so empowered. This sounds lame. But bicycles truly contribute to bodies in space working in complete freedom. They cross lines of occupantcy and rights. When you are on your bike you become this beautiful hybrid of flesh and metal. With cars, you are still just in a pod, your energy is not recycled in any way and there is abundant waste. Freedom and mobility are extremely important to me and to what I think are everybody's rights (that and the right to information.)
I would also like to throw out there how much I have wanted this for a while::
So! Please contact Zach while hes on his journey. This book should be pretty awesome.